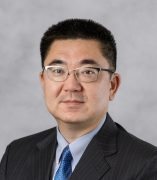 Jianfeng (Jeff) Wang
Director
Programs for International Partnerships
Contact
Office Phone:
Email:
About
Jeff Wang has over 20 years of experience in international education. Having spent most of his professional career at UIC in different capacities, Jeff's passion and dedication towards international education has never changed. Currently serving as Director of PIP, he oversees partnership programs in various academic disciplines with overseas institutions and is always in pursuit of international exchange and collaboration opportunities that benefit and support UIC's overall internationalization strategy.
Jeff is a top Mandarin Chinese-English interpreter in Chicago and Midwest, specializing in both simultaneous and consecutive interpretation and over the years has worked with many government, business, and civic leaders at high-profile events. In his spare time, Jeff is an avid tennis player and had captained multiple teams into USTA League's state or regional championships.
Jeff holds an MBA degree from UIC and a B.A. degree in Economics from Beijing International Studies University, China.